Beyond invisibility
Uses of comparison in Welsh cultural nationalism
Abstract
This article explores the uses made of comparison in transcending the alleged invisibility of minorities. Beginning with the suggestive fact that African-American Ralph Ellison began conceiving of his seminal novel Invisible Man while a merchant marine stationed in wartime Swansea, South Wales, the article proceeds to explore the ways in which Welsh nationalist authors and thinkers have compared their plight to that of others. Emrys ap Iwan was one of the first to describe the Welsh experience in broadly colonial terms, and to lampoon English monolingualism in the mirror of European multilingualism. Saunders Lewis developed ap Iwans thinking by emphasising the ways in which Wales had been cut off form its natural home in Europe by the development of the imperial British state. If some writers turned to Europe, others turned to the United Staes for comparative sources. Jon Dressels problematic comparison of Wales with the Southern States is discussed as an example of the dangerous implications of some comparisons. The article seeks to demonstrate that national visibility and invisibility can only emerge in relation to one another. Recognition - that is recognising the Other and being recognised by an other - is where nationalism finds its cultural embodiment and expression.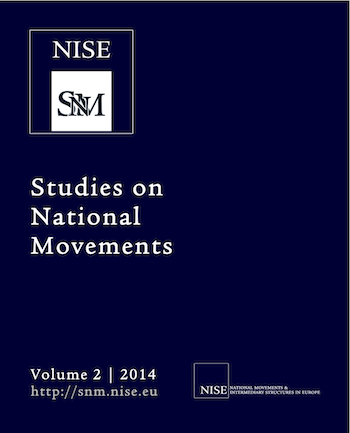 How to Cite
Williams, D. G. (2014). Beyond invisibility: Uses of comparison in Welsh cultural nationalism. Studies on National Movements (SNM), 2. Retrieved from https://test.snm.nise.eu/index.php/studies/article/view/0208a
Authors who publish with this journal agree to the following terms:
Authors retain copyright and grant the journal right of first publication with the work simultaneously licensed under a Creative Commons Attribution License that allows others to share the work with an acknowledgement of the work's authorship and initial publication in this journal.
Authors are able to enter into separate, additional contractual arrangements for the non-exclusive distribution of the journal's published version of the work (e.g., post it to an institutional repository or publish it in a book), with an acknowledgement of its initial publication in this journal.
Authors are permitted and encouraged to post their work online (e.g., in institutional repositories or on their website) prior to and during the submission process, as it can lead to productive exchanges, as well as earlier and greater citation of published work (See The Effect of Open Access).