The origins of the ambiguity
Nation and empire in Catalonia from the Middle Ages to the 1880s
Abstract
Catalans have belonged to composite monarchies, imperial constellations and nation states, and, as a result, have possessed multiple identities and allegiances throughout history. Catalan nationhood first emerged in the Middle Ages. Upon the Union of the crowns of Aragon and Castile in the late fifteenth century, educated Catalans also came to feel 'Spanish', understood as an overarching imperial identity consisting of a community of pure-blooded Catholics on both sides of the Atlantic. Following the loss of most of the American colonies in the early nineteenth century, Spanishness became increasingly regarded as a form of national identification. Various patrias or nationalities of the Iberian Peninsula shared customs, increasingly spoke a similar language, and consisted of citizens and subjects of the constitutional monarchy. During the nineteenth and twentieth centuries, Catalans possessed dual identities - as Catalans and Spaniards - which proved mutually reinforcing. At the same time, ongoing and age-old rivalries between Catalans and Castilians over the direction of the state harboured the seeds from which a regionalist and ultimately an ambiguous nationalist movement would spring.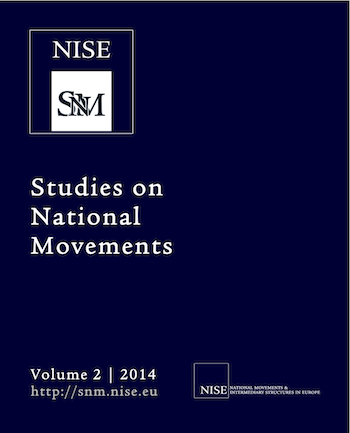 How to Cite
Jacobson, S. (2014). The origins of the ambiguity: Nation and empire in Catalonia from the Middle Ages to the 1880s. Studies on National Movements (SNM), 2. Retrieved from https://test.snm.nise.eu/index.php/studies/article/view/0207a
Authors who publish with this journal agree to the following terms:
Authors retain copyright and grant the journal right of first publication with the work simultaneously licensed under a Creative Commons Attribution License that allows others to share the work with an acknowledgement of the work's authorship and initial publication in this journal.
Authors are able to enter into separate, additional contractual arrangements for the non-exclusive distribution of the journal's published version of the work (e.g., post it to an institutional repository or publish it in a book), with an acknowledgement of its initial publication in this journal.
Authors are permitted and encouraged to post their work online (e.g., in institutional repositories or on their website) prior to and during the submission process, as it can lead to productive exchanges, as well as earlier and greater citation of published work (See The Effect of Open Access).